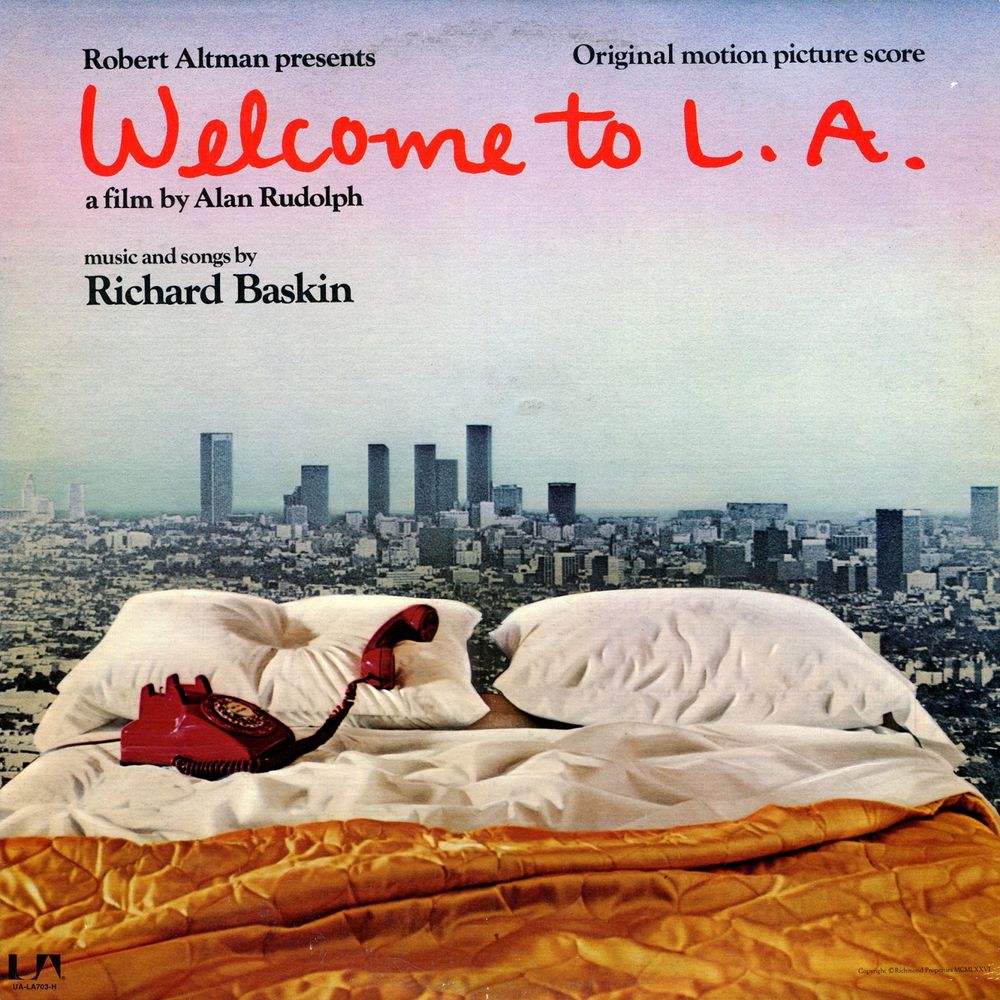 Welcome to LA
A film by Alan Rudolph, Produced by Robert Altman; BASED ON MUSIC AND SONGS BY RICHARD BASKIN
    (FULL SOUNDTRACK BELOW)
Welcome to LA is a moody romantic Le Ronde, written and directed by Alan Rudolph and produced by Robert Altman.  Based on Richard Baskin's song suite, "City of the One Night Stands", Rudolph crafted a bittersweet story of interconnected, but disconnected souls in LA.  
Rudolph and Baskin met in 1975 while working on Robert Altman's classic, Nashville.  Alan Rudolph was the Altman's assistant director, and Baskin the composer and musical director on the film. The two became friends and when Baskin played his songs for Rudolph,  Alan responded: "I could make a movie out of that".  Working quickly, Rudolph adapted the themes and relationships of the songs into characters and wrote the screenplay during the filming of Nashille. When that shoot ended, the two presented the idea to Robert Altman, who agreed to produce the film as Alan Rudolph's directorial debut.
Putting together an ensemble cast that included KEITH CARRADINE, GERALDINE CHAPLIN, HARVEY KEITEL, SISSY SPACEK, SALLY KELLERMAN, LAUREN HUTTON, VIVECA LINDFORS, JOHN CONSIDINE,  DENVER PYLE, and RICHARD BASKIN, the film immediately went into production and was released in 1978.  It has gained a cult following and established Alan Rudolph as a unique film-making voice.
Welcome to LA Soundtrack
Welcome To LA
Richard Baskin
0:00/4:10

0:00/4:16

0:00/5:22

0:00/3:32

0:00/4:43

0:00/5:05

0:00/8:48

0:00/2:00
Song Lyrics
Well, I've been looking for somebody,
Got my mind made up--
Who doesn't need a lot to say…
So that when we talk,
At least we're not playing games
I've been in love before, but I got hurt so bad
That I still can feel the pain
I want to love again,
But I still feel too afraid

So I've been living in the city of the one night stands
And sleeping next to Pity and it's crazy
The closer I get,
The more she wants to take me
And when you're livin' in the city of the one night stands
Faces that never look to pretty in the daylight
Begin to look fine,
When the night time gets you blind

Livin' in the city of the one night stands
Livin' in the city of the one night stands

Morning comes early in a stranger's bed
It's never quite as easy when you're straight
I'd like to have a dime for all the promises
That stoney lovers make when it gets late
Sure it hurts, but it feels pretty good

To be living in the city of the one night stands
Where the night time makes it easy to feel crazy
You want to get saved,
But there's nothing there worth saving…

And when you're living in the city o the one night stands
Though you never see the beauty in the daylight
When day becomes night,
It begins to feel alright…

Livin' in the city of the one night stands
Livin' in the city of the one night stands
Livin' in the city of the one night stands
Livin' in the city of the one night stands


Faith--
I've played that out
It would have been blind…


Faith--
I've played that out
It would have been blind…


Faith--
I've played that out
It would have been blind…


Faith--
I've played that out
It would have been blind…


Faith--
I've played that out
It would have been blind…


Faith--
I've played that out
It would have been blind…


Faith--
I've played that out
It would have been blind…


Notes & Credits
Album Produced By Richard Baskin
Music, Lyrics & Songs by Richard Baskin
Performed by Richard Baskin & Keith Carradine
Recorded at Silvery Moon Studios, Los Angeles, California
Musicians
     Richard Baskin: Keyboards and Synths
     Vassar Clements: Violin
     Art Johnson: Guitar
     Duane Smith: Keys and Organ
Strings arranged by Alan Broadbent